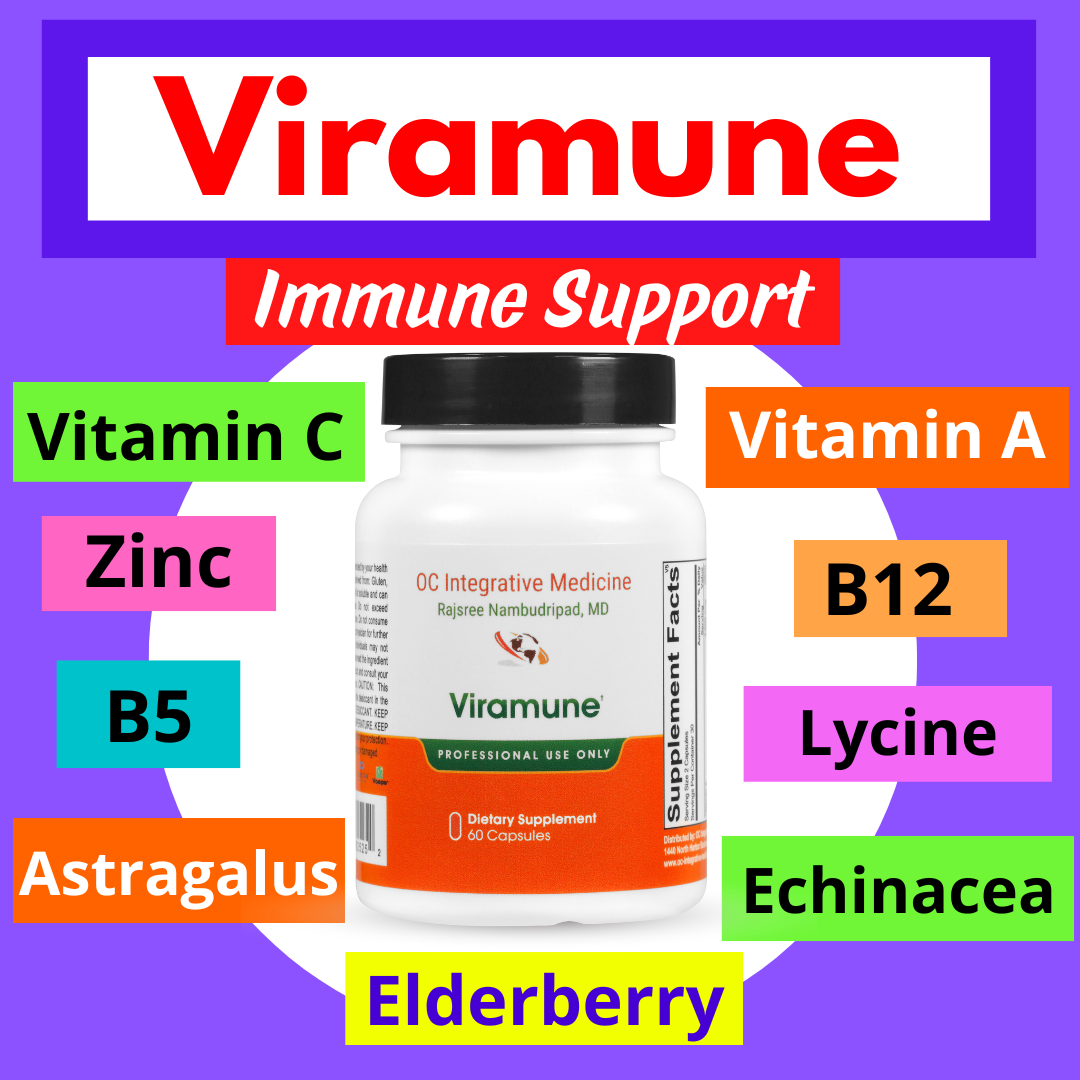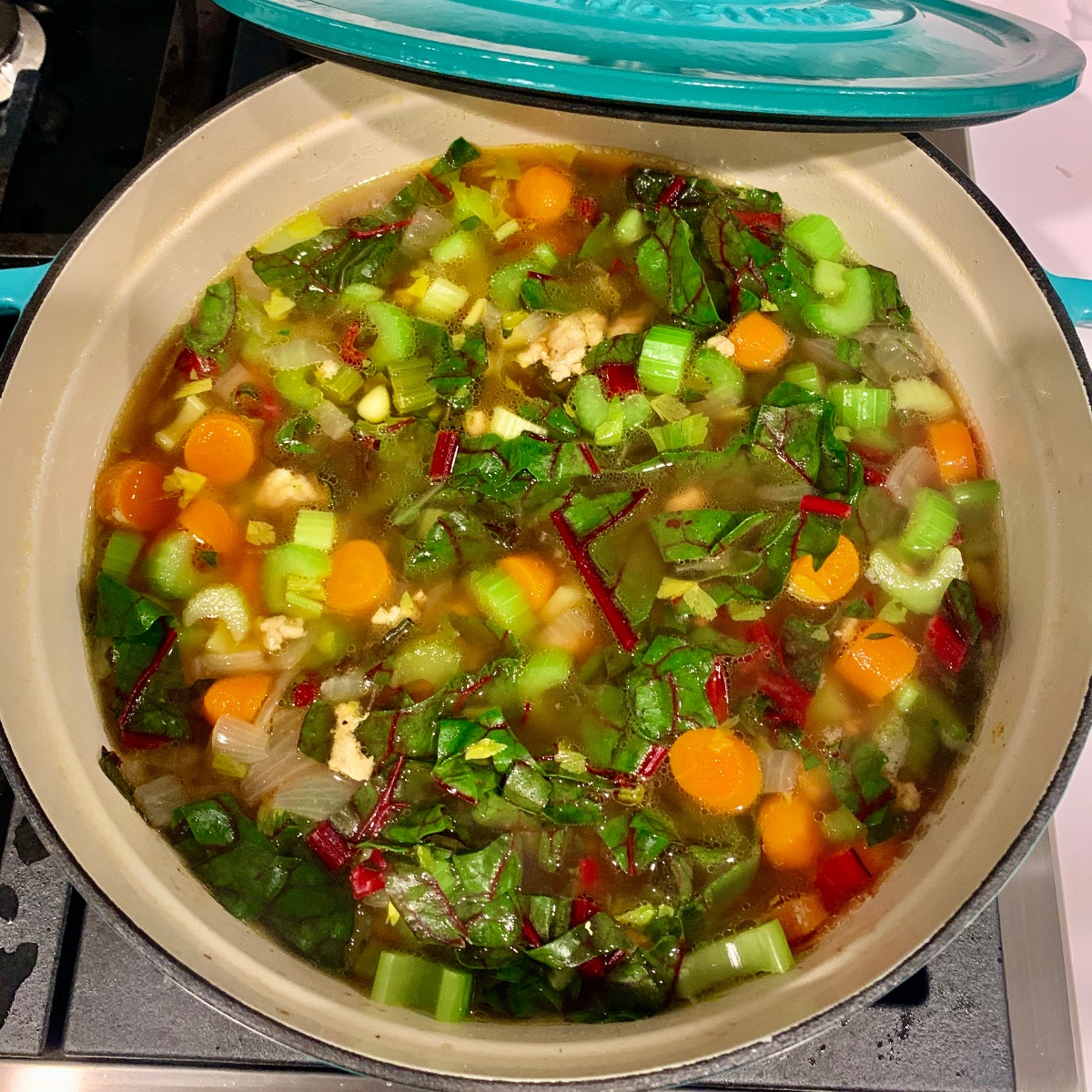 Hi Friends,  
It's been rainy for a change here in Southern California.  Hope you're all staying warm and healthy.  As we enter cold and flu season, I want to spotlight one of my favorite immune-boosting supplements:  VIRAMUNE 
I often refer to VIRAMUNE as the "Purple Pills" since the Elderberry gives it a distinct purple color.
Anytime you feel viral symptoms starting, like a sore throat, body aches, nasal congestion, or a cough, start VIRAMUNE immediately, taking 2 capsules twice a day after food.  It can help boost your immune response and speed recovery from common viruses.
It can also be taken 2 capsules daily as a preventative dose.  This can be helpful for those traveling or with a high level of exposure.
VIRAMUNE is a powerful combination of immune boosting vitamins and herbs:
🟣 Vitamin C
🟣 Zinc
🟣 Vitamin A
🟣 B5 and Methyl B12
🟣 Lysine
🟣 Echinacea
🟣 Elderberry 
🟣 Astragalus
My patients report great success using VIRAMUNE to overcome common upper respiratory infections and to keep their families healthy.  I personally use VIRAMUNE as needed to stay healthy all year round.  
There's nothing like chicken soup to warm you up and nourish you from the inside out!  It's a great way to get all the nutrients from colorful vegetables.  Here's my updated 2022 recipe and it's a double batch!
Dr. Rajsree's Chicken Soup: 
Ingredients:
2 lb ground organic chicken (two packages, each 16 oz)
2 bunches of organic red chard, washed and chopped
1 bunch organic celery, chopped
5 organic carrots, peeled and chopped
1 large yellow onion, diced
1 container of organic chicken broth (32 oz)
1 container of organic vegetable broth (32 oz)
3 tsp Himalayan salt
1/2 tsp black pepper
1 tsp curry powder
1 tsp ground cumin
Extra Virgin Olive Oil
Use a large soup pot and sauté the diced onions  with 3 tablespoons of olive oil on medium-low heat.  After a few minutes, add just a handful of chopped carrots and celery and sauté for a few minutes until fragrant (save the rest of the carrots and celery to add later).  Then add the ground chicken, salt, pepper, curry powder, and cumin.  Add another 3 tablespoons of olive oil.  Use a spatula to sauté and break up the chicken as it cooks.  Once the chicken is well cooked, add the rest of the chopped veggies (rest of the carrot, celery, and red chard) as well as the 2 containers of broth.  You may be able to add an additional 1 to 2 cups of water depending on the size of your pot.  Cover and bring to a boil on high heat, then reduce heat to low, and simmer for 7 minutes.  My family enjoys this soup served with a scoop of fragrant basmati rice.  This is a staple in my home!  Hope your family loves it too!
Dr. Rajsree's Supplements for Hormone Health
Kind regards,
Rajsree Nambudripad, MD