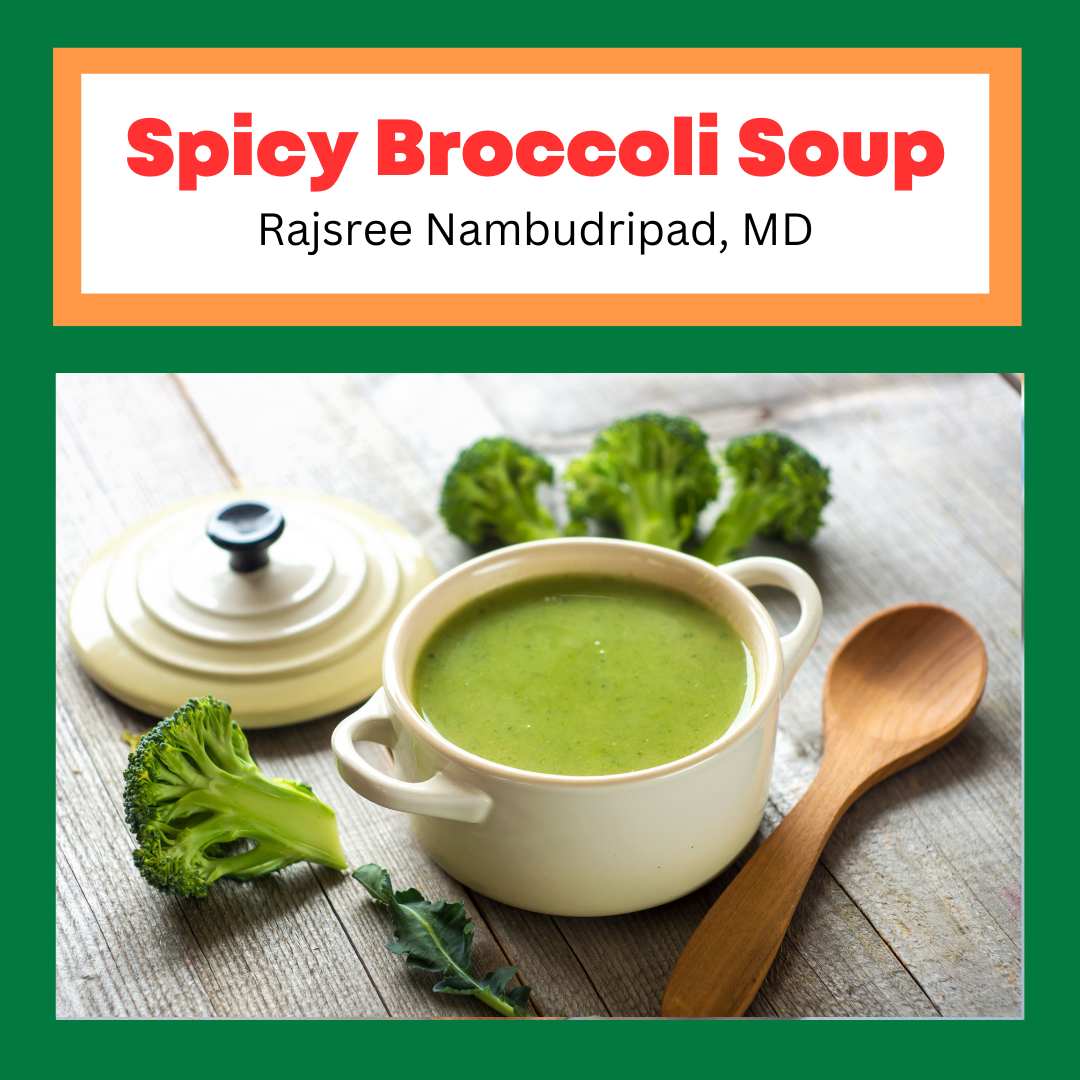 Hi Friends,  
Hope you are all doing well and staying healthy!  Nothing beats home-cooked food made from scratch with clean ingredients. 
One day after work last week, I came home, opened the freezer, and saw a bag of frozen broccoli🥦.  Usually I prefer fresh broccoli, but then I realized frozen broccoli would be great for a soup!  I experimented and threw together a few ingredients, and the end result was an incredible luxurious restaurant-style soup that felt so nourishing and satisfying.  It's always a home run when something so healthy tastes amazing, too!  Broccoli 🥦 is a cruciferous vegetable that has sulforaphane, which has anti-cancer properties.  It's also a rich source of diindolylmethane (DIM), which has estrogen-metabolizing properties.
For those of you trying to watch your carbs and avoid refined sugar, you will LOVE these Lemon🍋-Blueberry🫐 muffins!  They are paleo, gluten-free, and dairy-free.  They're a perfect "healthy" treat full of antioxidants from blueberries, lemon, and olive oil.  Blueberries are one of my favorite superfoods full of the dark blue antioxidant known as anthocyanins.  There's nothing like a morning cup of coffee with a blueberry muffin!  
Spicy Broccoli 🥦 Soup
Ingredients:
1/2 yellow onion coarsely chopped
4 cloves garlic, coarsely chopped
12 oz bag of frozen broccoli, defrosted
Half of a 12 oz bag of mixed veggies (corn, carrots, peas, and green beans), defrosted
32 oz carton of chicken or vegetable broth
1/4 cup olive oil
1/2 tsp cumin
1/2 tsp chili powder
1 tsp salt
1/2 tsp black pepper
In a large saucepan, sauté the onions, garlic and spices until fragrant with 1/4 cup olive oil.  Then add the defrosted broccoli and mixed veggies.  Sauté and add the salt and pepper.  After about 5-7 minutes, when the veggies are well cooked, add about 1/2 carton of broth.  Mix well, then transfer to a high power blender.  Be careful when blending hot ingredients.  Consider covering the blender with a towel and holding down the lid for added safety.  Blend until smooth.  Pour the soup back into the saucepan, and add the other 1/2 carton of broth.  Stir together and heat back up to a boil.
Lemon🍋-Blueberry🫐 Muffins
Dry Ingredients:
1 and 1/2 cup almond flour
1/2 cup coconut flour
2 tsp baking powder
1/4 tsp salt
Wet Ingredients:
4 eggs
1/2 cup olive oil
1/4 + 1/8 cup maple syrup 
2 tsp vanilla extract
Zest of 1 lemon 🍋
1/4 cup lemon juice 
1/4 cup water
Final Ingredient:
Fresh organic blueberries🫐 (small 6 oz package)
Mix the wet and dry ingredients separately in 2 large mixing bowls. Add the dry ingredients to the wet ingredients and mix well.  Then gently stir in the  blueberries🫐.  Scoop the batter into a 12 cupcake pan, lined with cupcake wrappers.
Bake at 350 degrees F for 25 minutes.  
Happy cooking everyone!
Warm regards,

Rajsree Nambudripad, MD